Ambassador Horses: A Legacy
While we love and appreciate all of our horses, there are always some that seem to attach themselves deeper into our hearts. Some are true "hooves on" ambassadors who have carried countless riders for their first joyful rounds of tölt; others have just been done everything go anywhere horses or are just characters with unforgettable horse personalities. The following horses are a few of those amazing horses that remind us why we fell in love with this breed in the first place.
Borkur fra Alfholar | Valur fra Gamla Hraun | Skrekkur fra Vindheimar |
Valur fra Kufholi | Lettir fra Ey | Fraendi fra Buth | Sleipnir fra Lysuhol
Valur fra Kufholi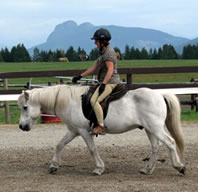 1982-2009
[Note! See more photos in gallery below.]
Chosen in Iceland by Robyn's sister, Susan Hodgson on a horse buying trip with Robyn; Valur would make a detour through Denmark for the 1989 World Championships, before finding his permanent home in Canada.
Dapple grey and rather handsome, Valur was an especially flashy member of the 4 horse Canadian team. Tractable and happy to work, Valur would become Susan's main riding horse, frequenting demos at the Royal Winter Fair in Toronto for almost a decade.
When Susan sold her farm in Ontario, Valur made the trip west to live out his "retirement" at the Icelandic Horse Farm. It soon became apparent however, that retirement was not in Valur's vocabulary.
Though quite forward out on trail rides, Valur was incomparably steady in the arena, rating speed and stride to match the ability of his rider. His patient temperament helped boost the confidence of countless beginners, and nervous riders, all the while looking quite sharp while doing it.
In addition to giving confidence to timid riders, Valur provided dozens of people with their first experience riding bridle-less. His steadiness and trustworthy nature was enough to convince even new riders that taking off the bridle seemed like a fine idea.
Valur left us in the winter of 2009 at 27 rather suddenly and unexpected. Until his passing, Valur could always be found waiting at the gait, making sure no one forgot to bring him out for his daily grain and grooming.