About The Gaits
The Icelandic Horse Farm Horses are Five Gaited!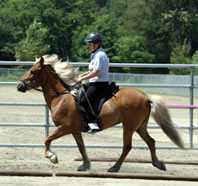 At The Icelandic Horse Farm we specialize in smooth, naturally gaited, pleasure horses that can be enjoyable for the whole family. We are not interested in having to hang on horses' mouths to produce a tölt or acquire brakes. Most of our horses are just as comfortable to ride with a gentle contact, as they are with no bridle at all.
[Note! See more photos in gallery below.]
This does not mean that our horses just shuffle along at the tölt. Through some classical dressage work and lots of Centered and Connected Riding and groundwork and continued schooling for ourselves and the horses we look to engage the horses through their core and ask them to carry themselves at the tölt.
We strive to match a horse's ability and talent to their future job, and do not expect every horse to be a cookie cutter. Safety and fun for horse and rider are the cornerstones to our philosophy here at the farm.