About Versatility
The Icelandic Horse Farm Horses are Versatile!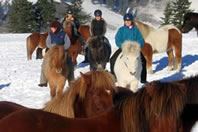 While known for their distinctive 5 gaits and wonderful disposition, Icelandics can do, and often excel at, a huge range of activities. [Note! See more photos in gallery below.]
At The Icelandic Horse Farm we strive to have easy, well-rounded horses, who are just as comfortable tölting around the arena, as they are cantering over cavalettis or navigating a tricky trail obstacle.