Other Services
Boarding | Training | Consignments | Clinics and Lessons | Transportation
Boarding
Our horses are generally separated by sex with the geldings and young colts running on 16 acres and the mares on 8 acres. During the warmer months the riding and in-training horses are turned out each day onto irrigated pasture with the length of time determined by their weight and the amount of grass available. In the winter all the horses are fed twice a day (3 times on cold days) and have constant free access to a windbreak, water, salt and ABC (Advanced Biological Concept) minerals. Most of the fences are 3 or 4 rail wood or vinyl fencing. [Note! Click on images to see larger views.]
A number of our boarders are young horses who were sent here by their owners to grow up in a large herd on big pastures and hills or retired horses, many who previously suffered from summer eczema. In our dry and virtually bug free environment, this is not a problem here. In the summer the young and retired horses spend their time in different pastures throughout the neighborhood where they have free access to grass. Most of these fields include irrigation and natural shelter to stay cool and hills to help the young horses develop muscles and the retired horses to maintain their stamina. Being moved to a different pasture in the summer gives the young horses the valuable experience of being trailered and adjusting to living in new situations. The "old guys" also receive carrots and apples daily. We check all horses at least once a day and the owners of the various properties have a nearly proprietary interest in the horses and call us if anything seems amiss.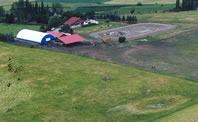 The riding horses are kept at the farm where they are fed hay in the morning and are turned out on rotated pastures for 4 hours at night. Stalls and small pens are available if a horse needs special care. The use of the tack room, indoor arena, large outside arena and 200-meter oval track is included in the boarding fee. Small fields are cleaned of manure daily, large pastures periodically.
The boarded horses are included in our regular maintenance program such as hoof trimming as needed and quarterly de-worming, with extra services, such as acupuncture treatments, dental work and training easily arranged.
Boarding Fees
Regular Board: $200.00 Cdn regular board or $150.00 for consignment horses (please inquire about multiple horse board discount)
Level 2 Board: Includes horse being brought in for grain, brushing and some TLC twice weekly $250.00 Cdn
Level 3 Board: Includes services of level 2, plus the horse is lightly ridden 3-4 times month or receives exercise as requested (TTouch, Conncted Riding, TTEAM groundwork or ponying) $350.00 Cdn
Level 4 Board: For older or disabled horses who can no longer function in the herd and need to be kept in a pen with a companion. Pens are cleaned daily, horses are fed 3-4 times daily with senior mix, beet pulp and minerals as needed $300.00
Stallion Board: (24 months of age or older) $250.00 Cdn
Daily Fee for short term boarding: Not with the herd: $10.00
Hoof Trims: $35.00 Cdn
Shoes: $140.00 Cdn
De-worming: $10.00 Cdn
Vet care: Vet costs as billed by the vet, plus $5.00 per ¼ hour if we have to treat the animal
Sheath cleaning: $10.00 Cdn or US
Groundwork: $20.00 Cdn
Ridden Work: $25.00 Cdn
Plus applicable taxes
Training
As we always have many of our own horses to start and train, as well as several consignment horses we are generally not able to take outside horses to be trained. However, Mandy is available to travel and help you with your horses.
Consignments
A large percentage of the horses we offer for sale are on consignment. At our clinics and through extensive advertising - word-of-mouth, magazine ads, the website, trade shows, competitions and mostly our reputation, we generate a lot of interested buyers. In 2003 we sold 98 horses and only 15 of those were not consignment horses. In 2004 five consignment horses sold within a week of being listed.
We reserve the rights to only accept consignment horses we feel are saleable. When offering horses to buyers we strongly encourage buyers to come and try the horses and disclose all faults or problems we see in the horse. We treat consignment horses as we do our own when potential buyers come to the farm, showing them the horses that are most suitable, no matter who owns them.
It is important for the consignment horses to be ridden (if they are of riding age) and in condition as potential buyers often want to try the horse for extended periods of time and the horses need to be in reasonable shape.
Consignment Fees
Consignment fee is 20% of the selling price.
Board, shoeing, trimming, de-worming are the same as boarding fee listed above.
Training and/or conditioning: $20.00 per groundwork session or $25.00 per riding session. There is no training charge if the horse is used in clinics.
Clinics and Lessons
Please refer to the Events page for a list of our clinics with prices. We do offer individual lessons but don't offer trail rides outside the clinics. If you are looking to buy a horse we are happy to give you pointers about riding horses that are suitable for your needs at no charge.
Connected Riding and Tellington TTouch lessons are offered for students of all levels at the Icelandic Horse Farm.
All lessons are geared towards safety, progression, and respect for horse and rider and of course, fun.
Riding Lessons follow the principles of Connected Riding, whether it be on an Icelandic or not. This method honours classical principles but teaches them in a way that recognizes a modern understanding of bio-mechanics, function, and posture. These lessons are suitable for all levels of horse, rider, breed, or discipline. They focus on creating a functional, healthy, posture for horse and rider that allows for better movement, performance, safety, and cooperation.
For Icelandic geared lessons these principles are incorporated into understanding and influencing the 5 gaits without sacrificing a functional posture for horse and rider.
The farm is home to many well-schooled horses of all levels, with the primary breed being Icelandic.
Private Lessons: $60 (one hour, horse provided)
Semi-Private Lessons: $40 each (horse provided)
Tellington TTouch Lessons in bodywork and groundwork are offered at the farm year round. Learn, hands on, how you can identify and release tension patterns and bracing habits in horses to improve performance, well-being, and self-confidence. Sessions can be custom tailored to your specific interest or needs. Learn more about the Tellington TTouch.
Private Lessons: $50 each (one hour)
Transportation
We can often arrange reasonably priced transportation to most places in the US and Canada. When arranging a truck we watch that the horses are fed and watered on route and rested on longer trips.